Frustrated? Struggling? Wasting Time Needlessly? Crashing a lot?
---
There is a human side to all this technology. Time and again I have found that, for most people, simply making that connection is mainly what's standing between them and liberation to be more productive and more creative.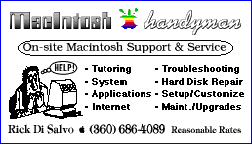 Sometimes knowing just a little more can make it a heckova lot easier.

Sometimes getting someone onsite to groom and setup the system/interface, maybe do an upgrade or two, install some more memory... is just what the PC doctor ordered to get everything snappy again.
Sometimes its not enough to disassemble everything and "take it in" just to come to the realization after you get it back that it still needs plenty of attention in 'other areas' before its running nicely, and maybe you need to know and understand more to really reap the benefits.
If you are in a quandry over where/how to get help for you and your Mac, and you live in the greater Portland / Vancouver area, as well as Battle Ground, Woodland, and even Longview ...give me a call... I can help.